Porcelain Inlays/Onlays - Dentist In Orleans - Orleans Dental
If you lose a chunk of your tooth's surface, you need not necessarily replace it with a crown; there are ways to restore the lost part without making major structural changes. While composite bonded fillings and dental crowns are successful methods of restoration, they lack the precision and quality of finish which Porcelain Inlays/Onlays can provide.

An Inlay is used in cases of just a tiny portion of the tooth being broken off. By repairing just one cusp or an even smaller area, Inlay grants dentists the freedom to tend to fine details and provide patients with a neat finish. Onlays deal with greater restorations, aiming to repair more than one cusp of the damaged surface.

Porcelain Inlays/Onlays require much less preparation than the alternatives, hence keeping most of your natural tooth intact. The material that makes up porcelain grants greater flexibility when it comes to moulding to the structure of the tooth. Also, this material can mimic the texture and colour of enamel nicely, making the restoration look absolutely natural. Porcelain is much more resistant to harmful foreign elements, as compared to composite fillings, hence providing long lasting shine and a clean look.

Contact us at Orleans Gardens Dental Centre in Orleans, Ontario and find out how you can benefit from our restorative services.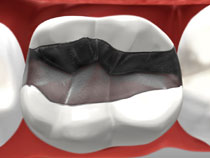 Last Updated On
2021-01-27