Full Mouth Restoration - Dentist In Orleans - Orleans Dental
If you want to completely change the way your mouth looks and feels, full mouth restoration can be the answer. It is a comprehensive restorative method that is used to eliminate multiple oral defects simultaneously. A procedure is as elaborate as this demands meticulous work and expertise. Our renowned dentist, Dr. Nguyen, and her team of experienced dentists and professionals will do their best to achieve your flawless smile.
What is full mouth restoration?
It is a treatment process that restores your entire mouth to a youthful and healthy condition. Whether you're missing teeth, have worn-down teeth, or have problems with your gums, this series of procedures can help you look and feel your best. Full mouth restorations include treatments like crowns, bridges, veneers, dental implants, and dentures.
Do I need full mouth restoration?
One may need a full mouth restoration owing to the following factors:
Multiple tooth loss in an accident or trauma.
Damaged teeth because of a persistent gum disease.
Gradual degeneration of teeth because of natural factors.
A decay encompassing the entire mouth.
Improper or heavy dental work having caused damage.
Bad bite, chipped teeth and malocclusions as a result of years of clenching, aggressive brushing and neglected oral hygiene.
Full mouth restorations require extensive planning as they are often a combination of restorative dentistry, cosmetic dentistry, endodontics, periodontics and orthopaedics.
Sometimes these symptoms can become severe because some patients did not go to the dentist after they've just first occurred. As such, they now need an emergency dentist in Orleans. Luckily, Orleans Gardens Dental Centre offers dental emergency services for full mouth restorations.
How long does a full mouth restoration procedure take?
Depending on the treatment you require, some restorations may take a couple of visits to the dentist, while some only take one visit. For example, dentures, implants, and a few types of crowns can take up to a couple of visits to the dentist. They require dental impressions and be sent to the dental lab in order to create prosthetics and replacement teeth. Dental labs can create them look more natural and easily blend with your other natural teeth. Meanwhile, fillings, veneer replacements, and some crowns, such as CEREC crowns, only take one visit.
How much is a full mouth restoration in Ottawa?
A full mouth restoration can vary in cost, depending on the type of services you may require. However, we always send estimates to your dental insurance before proceeding with any procedures. At our Orleans dental clinic, we don't want you to worry about having to break bank while getting your oral health in check. As such, we offer payment plans to those who need them.
If you believe you need full mouth restorations, please don't hesitate to contact us at Orleans Gardens Dental Centre, Orleans, Ontario or book an appointment online!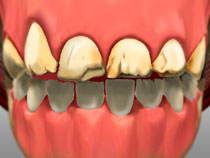 Last Updated On
2021-09-20