Full Mouth Restoration - Dentist In Orleans - Orleans Dental
If you want to completely change the way your mouth looks and feels, full mouth restoration can be the answer. It is a comprehensive restorative method which is used to eliminate multiple oral defects simultaneously. A procedure as elaborate as this demands meticulous work and expertise. Dr. Thuy-Tu Nguyen and her team of experienced dentists and professionals will do their best to achieve your flawless smile.

One may need a full mouth restoration owing to the following factors –  
Multiple tooth loss in an accident or trauma.
Damaged teeth because of a persistent gum disease.
Gradual degeneration of teeth because of natural factors.
A decay encompassing the entire mouth.
Improper or heavy dental work having caused damage.
Bad bite, chipped teeth and malocclusions as a result of years of clenching, aggressive brushing and neglected oral hygiene.
Full mouth restorations require extensive planning as they are often a combination of restorative dentistry, cosmetic dentistry, endodontics, periodontics and orthopaedics.

Contact us at Orleans Gardens Dental Centre, Orleans, Ontario and perfect your entire smile!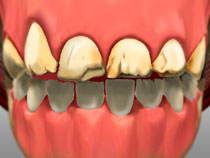 Last Updated On
2021-01-27