Dental Bridges in Orleans - Best Dentist Orleans - Orleans Dental
At Orleans Gardens Dental Centre, our family dentists in Orleans will help you achieve a healthy smile by offering some of the most renowned dental services such as dental bridges. Dental bridges have long been used and trusted as an effective restorative tool. They are used for bridging gaps between teeth, created by lost or broken teeth inside the mouth. The following facts will help you understand more about how we can restore the balance in a patient's mouth:
What is a dental bridge?
A dental bridge is a false tooth called pontic that's held in place by the abutment teeth on either side of the gap. Pontics can be made out of gold or porcelain, if you want a more natural look.
How is a dental bridge done?
Dental bridge procedures are done on multiple visits:
On your first visit, our dentists in Orleans will file down the 2 healthy teeth to prepare them for the bridge. If you don't have healthy teeth or enough teeth to support a bridge, then dental implants may be surgically placed.
Next, they take impressions of your teeth. This impression is used to custom-make the bridge at a dental lab.
Meanwhile your dentist places a temporary bridge in your mouth to protect the exposed teeth and gums.
During your second visit, your dentist removes the temporary bridge and places the custom made bridge in your mouth.
What are the benefits of a dental bridge?
Here are some of the benefits of a dental bridge:
It utilizes the strength of surrounding teeth, allowing for a sturdy hold.
The restorative work done via bridges looks and feels natural, both in strength and appearance. The end result is a new tooth with a colour and texture matching that of a natural tooth.
One of the several negative aspects of losing teeth is a change in speech clarity. Bridges can also restore speech clarity.
When an implant is affixed, the roots have to be removed along with the broken tooth. A dental bridge is much more conservative, allowing you to retain your natural roots.
One of the biggest concerns after tooth loss is that the gap between teeth can cause alignment issues. By utilizing bridge restorations, many alignment related problems can be prevented.
Along with the above benefits, it is also time efficient. Completion of this operation would require only a few visits to the dentist.
Are dental bridges permanent?
A bridge is permanent and cannot be removed since it is held firmly in place by your own teeth on each side of the missing ones, or by dental implants.
Do dental bridges fall out?
Actually, there's a common misconception circulating that dental bridges aren't sturdy and will eventually fall out. While bridges do sometimes loosen over time, they can easily be tightened by your dentist. They're built to last a lifetime, so the chances of your bridge falling out are miniscule.
If you're in need of dental work, please book an appointment online with Dr. Thuy-Tu Nguyen and plan your visit to the Orleans Garden Dental Centre in Orleans, Ontario bycontacting us.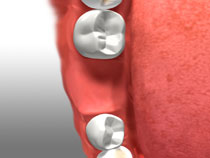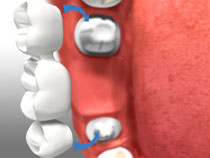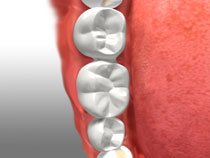 Last Updated On
2021-10-25