Bonded Fillings in Orleans- Dentist In Orleans - Orleans Dental
Among the most successful methods of restoring damaged teeth: bonded fillings are used when filling dental cavities and repairing chipped or broken-off teeth. An unrepaired decay in the teeth can depreciate the strength of enamel, making it vulnerable to breakage and chipping. The cavity created by the chipping of a tooth often becomes a breeding ground for germs, causing gum diseases that can destroy it. By closing off a cavity, the filling acts as a shield that protects teeth from foreign elements and prevents the accumulation of germs. 

The white colour of the composite is also used to enhance the aesthetic value of teeth apart from repairing dental defects. The white colour and texture makes the restoration look natural. Additionally, the procedure is usually requires only a rather quick single sitting.

To prepare your teeth for the procedure, Dr. Thuy-Tu Nguyen will clean and remove the decay and then proceed with the bonding of the composite, which will allow the filling to sit tight in place. After treating the filling with a special blue light, finishing work will be performed to remove any excess materials.

To get rid of painful cavities and achieve a natural look, please do not hesitate to call us! Book an appointment at Orleans Gardens Dental Centre in Orleans, Ontario.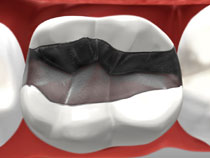 Last Updated On
2021-01-27