Amalgam-Free Dentistry - Dentist In Orleans - Orleans Dental
Orleans Gardens Dental Centre practice provides comprehensive mercury-free and amalgam-free dentistry. Restorative dentistry seeks to repair or replace your natural teeth in order to return your mouth to full functional and aesthetic harmony. The restorative work can range from simple fillings and crowns to more complex root canal therapy and tooth replacement implants. No matter what stage of restorative care your teeth require, we can offer solutions. 
What are amalgam fillings?
Amalgam fillings, otherwise known as "silver" or "metal" fillings, are made out of a mix of metals such as mercury, silver, copper and tin. Some may argue that amalgam fillings and dental procedures are unsafe for patients due to the small traces of mercury, silver, copper, and tin found in these restorative materials. However, amalgam fillings have been around for a very long time and do not pose any medical or dental risks for patients. There are no studies that state amalgam fillings can harm you and your health. 
However, our family dentistry in Orleans knows what it's like to worry about your family's health and wellbeing. This is why we offer amalgam-free and mercury-free dentistry. It's the use of alternatives to amalgam and mercury in dental procedures. In modern dentistry, the use of advanced technologies allows our dentists to perform healthy and safe treatments on our patients.  
What happens during an amalgam filling procedure?
During your amalgam free procedure, our dentists will administer needle-less and pain-free anesthesia for procedures; remove decay; place amalgam-free material in the space; and then place a special UV light to bond the material to your tooth.
Are amalgam fillings bad for you?
Mercury by a single element is bad for your body and health because it's a poisonous metal. When it's in a dental amalgam, it is bound in an alloy, which also includes silver, copper and tin. As such, mercury in amalgams releases very little mercury into the body. Also, there have been no scientific studies showing that dental amalgam causes illnesses due to the small strains of mercury vapour that are released while you are chewing. The minute mercury vapour that is being released in your mouth can also be absorbed from natural sources, such as food. 
Are amalgam fillings still used?
Amalgam fillings are still being used around the world. However, our dentists in Orleans do not perform amalgam dentistry. We offer a myriad of services to our patients. We want you to feel safe and comfortable when you're sitting in our operatory rooms. 
At Orleans Garden Dental Centre, our dentist office is open on Saturdays, giving you a more accessible experience to your dentist, whenever. Contact us or book an appointment online!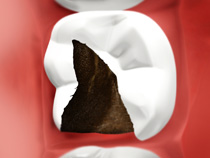 Last Updated On
2021-09-20